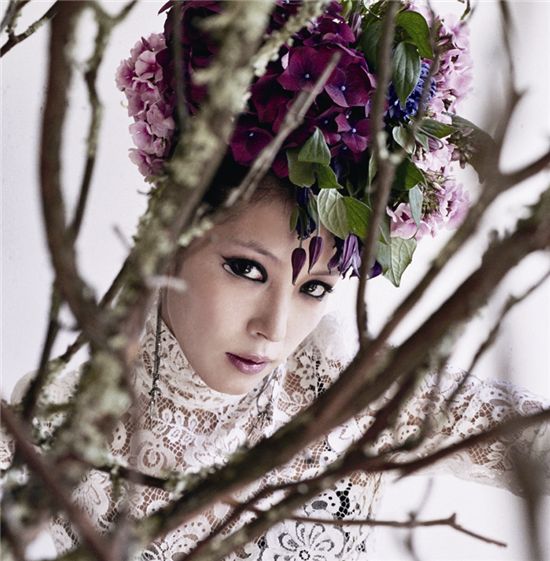 Korean pop singer BoA [SM Entertainment]
She has topped music charts in both Korea and Japan. She made her debut in the U.S. and took on the challenge of making it onto the Billboard charts and was recently cast in a Hollywood dance pic which will be produced by the makers of the film "Step Up." It took her ten years to achieve all these accomplishments. And BoA is now twenty-four years old. In that respect, "Hurricane Venus," BoA's first record release in Korea in five years, carries more meaning than it being just a new album. What kind of music does this singer, who has achieved almost everything she can achieve commercially and is now reaching her peak as a singer and dancer, want to make? Below are excerpts from a press conference with BoA, held on August 4.
Q: You have come to celebrate the tenth year of your career at a young age. How do you feel looking back on it?
BoA: Honestly, it's not like I have a certain feeling. I did this and that and ten years passed by, I don't know how. But I thought about what I did during the past ten years, and I realized I really did do a lot of things. (laugh). I put out a lot of albums, I went to Japan and the U.S. I feel like I constantly learned [foreign] languages for ten years. (laugh) But there are more days lying ahead than days that have passed by. I will be thirty-five at my twentieth anniversary, and that is not much older than how old Lee Hyori is now (laugh) so I want to work harder at being a dance singer.
Q: The sixth album is also the first record you will be releasing in Korea in your twenties. What do you think has changed from your teenage years?
BoA: I unveiled the ballad track "The Person Next To Me" in advance, and I wanted to let people know that I too could sing ballads that women could relate to. Reaching my mid-twenties, I think I'm able to broaden on the scope of music that I do than when I was in my teens. And I am trying to understand the song first rather than just trying to sing it well no matter what. In the past, I used to have an obsession about having to sing well and that I had to do it well, but now I think about how I can perform songs in a way that I am being myself the most. Being a professional singer for ten years, it is important to take on a challenge and try new things but it is also important to do a good job. I think it is best that I do what I can do well at and use my weapon, which is performing, so that people like watching me perform.
Q: Many singers are making a comeback to the local music scene these days. Is there a reason you chose to make your comeback at this time?
BoA: August 25 will be my tenth anniversary. I thought about setting the date to August 25 as well, but the album was already finished and rather than putting too much meaning on the date, I just put it out because it was my sixth studio album.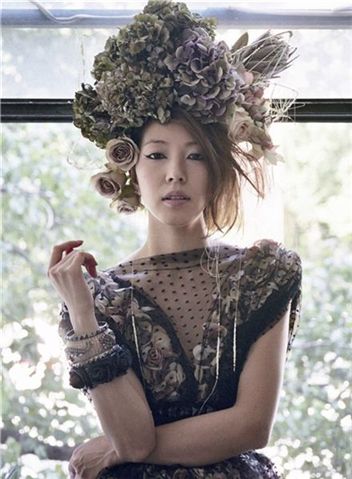 Korean pop singer BoA [SM Entertainment]
Q: Do you have any plans to appear on variety shows? Nowadays it is almost an absolute necessity for singers to appear on variety programs.
BoA: I will do Twitter very often instead. (laugh) I don't think I am the type of person who can create a fun atmosphere on variety shows. I think what the public wants from me is a good performance rather than becoming friendly through variety shows, so I want to keep giving good stage performances first.
Q: How do you feel about the K-pop music scene these days? You must practically be regarded a veteran when you go on shows like "Music Central." (laugh)
BoA: [Korean hip-hop group DJ DOC] DOC is there too. (laugh) I think it has really improved a lot. While I was recording in Korea, I watched television during breaks and I felt that it has improved by a mile. The quality of music programs have gone up and I think I can show better performances than five years ago. But I didn't know that the time for dry rehearsals got pulled up. I think I might have to stay up almost all night and go to rehearsal. (laugh)
Q: Back when you were promoting "My Name" and "Girls On Top," there were no female singers who showed a powerful performance like you did. But nowadays a lot of girl groups come out as strong women. What do you think about that?
BoA: I think it is amazing. And there is a lot more bodily exposure too. (laugh) Back when I used to wear short cut-off tops, people would tell me to cover it up. So this time I thought about taking my wardrobe to the extreme. (laugh)
Q: How are you going to perform "Hurricane Venus" on stage?
BoA: There will only be male dancers on stage. There is no reason for me to stick to having only female dancers just because I am a female singer, and I think a different appeal comes out when you combine femininity and masculinity. The choreography is complicated, as always. (laugh) It is unbelievably complicated that I think I might end up doing a circus act soon. (laugh) But image-wise, I grew out my hair and stuff, so it is more feminine than in the past.
Q: I heard that you came up with the title for the title track.
BoA: After I received the song, I felt like I needed a word that was strong and there were a lot of articles which had titles like 'explosive storm.' So I thought about storms, tornadoes and hurricanes and looked them up on the Internet. I found out that people used to name hurricanes by girls names because they wanted hurricanes to quiet down. And another article had the title that was something like 'goddess force' so I came up with Venus, but the company thought it was a little childish. (laugh) So I explained that it is a bit childish but it has an origin of its own, that it is an intense song and I was able to convince them somehow.. (laugh) And that became the title.
Senior Reporter : Kang Myoung-Seok two@
Editor : Lynn Kim lynn2878@
Source: Asiae
(Please do not remove any credits when taking out news from theksource.)