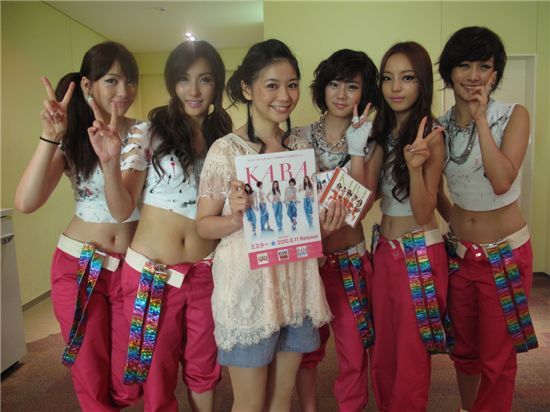 Kara members Kang Ji-young, Park Gyu-lee, host Sekine Mari, Han Seung-yeon, Gu Hara and Nicole [DSP Media]
Korean female idols Kara appeared on a Japanese morning talk show today, according to their agency DSP Media on Wednesday.
A press release from DSP stated that Kara appeared in a segment titled "Mariwood" of live Japanese morning talk show "Sukkiri" on Nihon TV earlier today, becoming the first ever Korean artists to be featured in the program.
The girls spoke with host Sekine Mari and performed their Japanese debut single "Mister" which also went on sale today.
"Mariwood" features information on the daily lives and fashion of Hollywood stars. International recording artists such as Lady Gaga, Justin Bieber and Backstreet Boys have made appearances on the show.
"Mister," produced in three editions, had placed at No. 1, 2 and 3 of album retailer Tower Record's daily preorder chart last month.
The girls will hold a hand-shaking event at the Shinkiba Studio Coast in Japan to celebrate the release of their debut single on August 14 and return to Korea the following day.
Kara, composed of members Gu Hara, Han Seung-yeon, Park Gyu-lee, Kang Ji-young and Nicole, made their debut in 2007 with their first album "Blooming." They have released several singles and albums containing their hits "Pretty Girl," "Wanna" and "Lupin."
Reporter : Lucia Hong luciahong@
Editor : Jessica Kim jesskim@
Source: Asiae
(Please do not remove any credits when taking out news from theksource.)