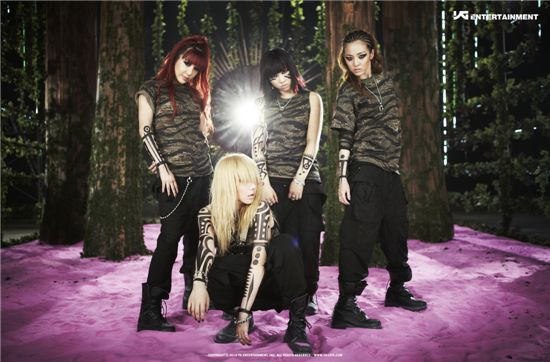 Korean girl group 2NE1 members (from left to right): Bom, CL, Minzy and Sandara [YG Entertainment]
K-pop artists 2NE1 yesterday unveiled the second title track to their upcoming album, according to the group's agency YG Entertainment on Tuesday.
YG announced in a press release that the first verse of the girls' second title track "Clap" was uploaded onto YG's official blog, YG Life, as well as photographs from the set of their music video.
"Clap" features the rapping styles of the four-member girl group in a percussion instrument background, while the photographs revealed the latest concept of the girls wearing smoky eye make-up and henna tattoos.
Just last week, the group released the teaser to their first title track "Can't Nobody" and song "It Hurts" on the official blog.
2NE1, composed of members CL, Sandara, Bom and Minzy, made their debut last year in a mobile phone commercial for LG alongside popular boy band Big Bang. The girls have produced various hit songs including "Fire," "I Don't Care" and "Try to Follow Me."
They will be releasing their first full-length album titled "To Anyone," locally and internationally, on September 9 and give their comeback performance, singing three of their title tracks, on SBS' music program "Inkigayo" three days later.
Reporter : Lucia Hong luciahong@
Editor : Jessica Kim jesskim@
Source: Asiae
(Please do not remove any credits when taking out news from theksource.)