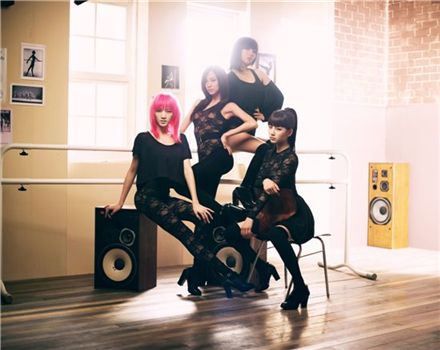 Korean girl group miss A [JYP Entertainment]
New girl group miss A triumphed on KBS' televised music program "Music Bank" over the weekend, beating out Taeyang for the top spot on the show with their debut single "Bad Girl, Good Girl."
Big Bang member Taeyang had claimed his first win on "Music Bank" last week but was bumped to No. 2 by miss A who took their first-ever win on the show.
"We want to thank everyone at the agency who has helped us along the way and our fans because this wouldn't have been possible without them," the members of the girl group said in their acceptance speech.
miss A, composed of members Fei, Jia, Suzy and Min, scored their first win ever on a televised music show last Thursday on Mnet's "M! Countdown." The girls, top talent agency JYP Entertainment's latest creation, has been topping various charts since making their debut just a little over three weeks ago.
However, Taeyang held onto his crown on SBS' "Inkigayo" for the second consecutive week with his latest single "I Need a Girl."
Other contenders on Sunday's show included Super Junior, Son Dambi, miss A, Narsha, Kan Mi-youn and 4minute.
Taeyang has been promoting the title track "I Need a Girl" from his first full-length album "Solar," which has taken over various online and offline music charts since its release on July 1.
He will be holding his first solo concert in September.
Reporter : Lucia Hong luciahong@
Editor : Jessica Kim jesskim@
Source: Asiae
(Please do not remove any credits when taking out news from theksource.)