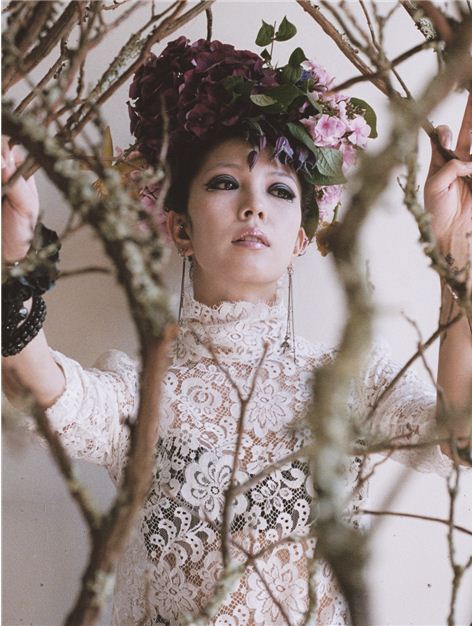 BoA [SM Entertainment]
Q: How did your Hollywood movie project come about?
BoA: Personally, I am a huge fan of the film "Step Up." That film made me re-think about street dancing and I gained passion for dancing. When I heard that the writer of that film offered me a role, I was very surprised. There has been a lot of talk over the years that I would start acting, but I wasn't up for it because my original job is being a singer and I was worried that once I started to act, it would look like acting was my full-time job. But I like that this movie is a dance film. As a singer, there is no opportunity to leave behind my dancing as a work of its own. But being able to express a two-hour movie with dancing, I think that, in itself, will be of great help to my career.
Q: Don't you want to keep acting, by any chance?
BoA: So far I don't have a huge interest in other areas. I have just been making music and I want to keep doing that for as long as possible. My album is about to come out so I have to do a good job with this. (laugh) Personally, I am the type of person who gets bored doing just one thing and Sir Lee Soo-man well knows that. So whenever he thinks that this kid might be feeling bored, he would say, "Let's go the U.S.~" or throw something new at me. I think that is why I was able to have fun working for the past ten years without breaking into other fields. I hope that we can maintain this relationship in the future and he will make me do something when I start to get sick of something. (laugh).
Q: In ten years and by your mid-twenties, you have achieved everything that most singers cannot do in their lifetime. Right now, what makes you keep pursuing music?
BoA: I know, I think I have truly done a lot of things. (laugh) They told me that the number of songs that has been released in my name is around 400, including the remixes. They said I made one song a week, and I thought I really work a lot. But there is a lot to do in the future. Musical styles can always change and it is my goal, more than anything, to keep making music and just enjoy it. Rather than saying what specific type of music I want to do, I think about how I can maintain my place well because it is harder to maintain than to climb to a certain position. Like how can I make myself stronger physically so I that can perform better live. When I was a teenager, I never got sick, I was strong and had a lot of energy even when I didn't get much sleep. But when you are in your twenties, you meet people for drinks (laugh) and your body gets tired. So I think I have to take good care of myself for the next ten years in order to keep dancing and singing.
Q: How long do you plan to keep dancing?
BoA: As long as my joints allow it. (laugh) Actually, I have had a lot of injuries on my feet, wrists and had shoulder dislocations. A while ago, I was even diagnosed with having a herniated disk around my waist. But I can't hold myself back with my body on stage, so I work out more. I do muscle workouts that hold the bones together and do rehabilitation therapy. (laugh)
Q: You seem to have almost no time for personal life. What do you do when you have free time?
BoA: I love watching movies. There is a saying amongst fans that one should go to a movie theater if he wants to see me. (laugh) But even though I am very busy working, I am the type who needs to play hard in order to work hard as well. When I have free time, I watch a lot of movies, drink alcohol and hang out with friends so that I can work harder. I think I have always kept a good balance between work and rest.
Q: It must have been hard for you to go out because you debuted at a young age and everybody would recognize you.
BoA: People don't recognize me that well. (laugh) Because they are used to seeing me in stage make-up. (laugh) Once I even got approached by a casting agent on the street. I was walking down the street with some of my staff to look for a stage costume, and this person who worked for some fashion magazine came up and asked if I was a model. And I was like, didn't she see my shoes because it is dark? (laugh) I told her I was a celebrity and she kept on asking who I was. (laugh) I couldn't tell her I was BoA so I just told her, "I'm a B-list celebrity but I'm not a model" and ran off. (laugh) After I left, she asked my staff people who I was and when they told her I was BoA, she reportedly said, "That is what BoA looks like?" (laugh) I felt good because that means she thought I looked good.
Q: What kind of person do you want to date?
BoA: I think it would be fine if he just likes me. I think it would be so great to have a friend I can talk and relate to, but it is hard because I spend a lot of time overseas.
Q: Since you are busy working, you would need a wife rather than a husband. (laugh)
BoA: That is so true. Someone who would cook for me. (laugh) I am good at washing the dishes though. I really can't cook and I could never make breakfast every morning. I think it would be nice to have a man who is like a wife and takes good care of me.
Q: When was your happiest moment during the past ten years?
BoA: When I won the grand prize for "No.1." I made my debut at the age of thirteen so I wondered if I could dare win something like a grand prize, so I was very happy that I won. It felt good to reach No.1 on the Oricon chart too but I didn't really feel it at the time. They said I made No.1 and that I had sold a million albums but I had no way to check if I really did. (laugh) So it didn't really hit me. But when you win a grand prize, they hand you the award and I think it meant a whole lot to me at a young age.
Q: What kind of reviews do you want to receive after you are done promoting the album?
BoA: Responses like 'Wow, that is BoA all right'? (laugh) I think I have done as many different things as I could both performance-wise and music-wise. I would like a lot of people to enjoy the album in many different ways.
Senior Reporter : Kang Myoung-Seok two@
Editor : Lynn Kim lynn2878@
Source: Asiae
(Please do not remove any credits when taking out news from theksource.)