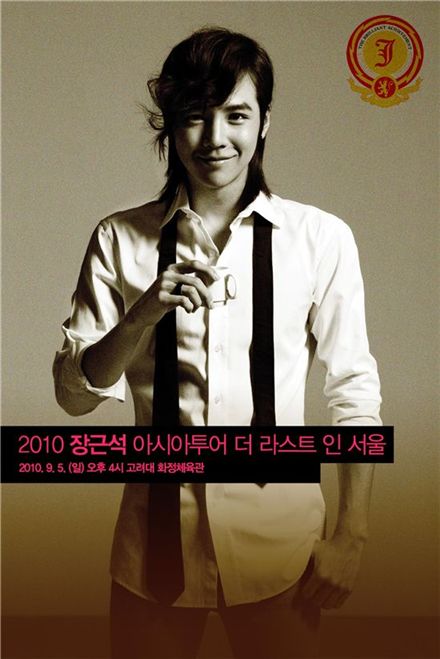 Korean actor Jang Keun-suk for his final meeting of his Asia tour in Seoul [Tree J. Company]
Hallyu star Jang Keun-suk will be wrapping up his Asia tour in Korea next month, according to his agency Tree J. Company on Thursday.
A press release from Tree J. announced that Jang will end his six-month Asia tour at the Hwaseong Tiger Dome located in Korea University in Seoul through a final fan meeting titled "2010 Jang Keun-suk Asia Tour The Last in Seoul" on September 5.
The actor had visited numerous fans in Taiwan, Beijing, Singapore, Tokyo, Osaka and Hong Kong since March.
"For six months I have received a generous amount of love from my fans all over Asia. I decided to add another date for the end of the tour because I didn't know how to say thank you to my local fans who have always been supportive of me," Jang was quoted as saying.
An official from Tree J. explained that the tickets for the event was ranked as the most-searched item once tickets went on sale. He also said they have received inquiries from fans in Japan and China to purchase tickets for the meeting in Korea.
Jang, 23, began his career in show business at the early age of five as a catalog model. He is well-known for his roles in MBC's sitcom "Nonstop 4" (2003) and "Beethoven Virus" (2008).
He became a household name all throughout Asia last year as the eccentric lead singer of the idol group A.N.JELL in the hit SBS' series ""Minamishineyo" alongside actress Park Shin-hye.
Tickets for his last fan meeting are available on Auction (www.auction.co.kr).
Reporter : Lucia Hong luciahong@
Editor : Jessica Kim jesskim@
Source: Asiae
(Please do not remove any credits when taking out news from theksource.)