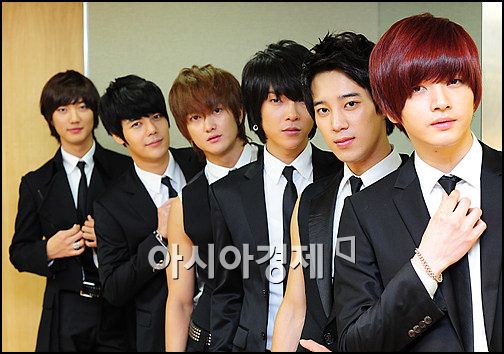 Boy band Supernova [Park Sung-ki/Asia Economic Daily]
Boy band Supernova will be holding a concert in Japan this coming December, according to the boys on Thursday.
The six-member band broke the news to Asia Economic Daily before going on stage of music cable channel Mnet's "M! CountDown" where they will give their first performance for their second album "Time to Shine" released yesterday.
Supernova said the live show will take place at the 15,000-seat Saitama Super Arena in Tokyo in December, following their live tour in the country which starts October 2 in Nagoya.
After debuting in Korea in 2007 through album "The Beautiful Stardust," Supernova went on to release a mini-album in Korea while gaining popularity in the country through collaboration projects "TTL (Time to Love)" and "TTL Listen 2" with girl group T-ara last year.
The boys have led a particularly successful career in Japan, placing all of their singles in the country within the top ten slots of the prestigious Oricon charts. Their latest ninth single, which went on sale yesterday, is currently ranked fifth on the daily chart.
They will be making a comeback to the local music scene for the first time in three years today.
Reporter : Park Kun-ouc kun1112@
Editor : Jessica Kim jesskim@
Source: Asiae
(Please do not remove any credits when taking out news from theksource.)