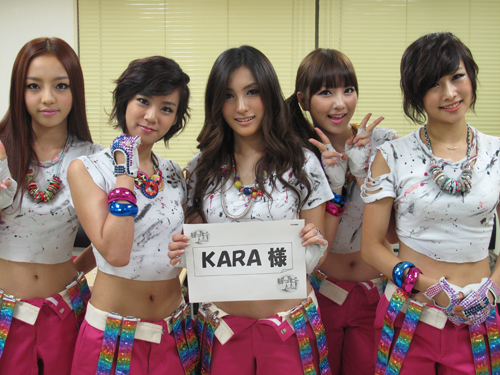 Kara members (from left to right) Gu Hara, Han Seung-yeon, Park Gyu-lee, Kang Ji-young and Nicole [DSP Media]
Korean girl group Kara will be making an appearance on a Japanese music variety program next week, according to their agency DSP Media on Monday.
A press release from DSP announced that the girls left for Japan last week to take part in a pre-recording for Nihon TV's music show "Happy Music," to be aired August 18, where they shared the stage with popular Japanese stars AKB48, Chemistry and Ikimonogakari.
The girls have garnered much attention with their upcoming Japanese single "Mister," topping the daily preorder chart for record retailer Tower Record last month. "Mister," produced in three editions, had placed on the No. 1, 2 and 3 spots on the chart when orders began in mid-July.
"Mister," the group's debut single album in Japan, will go on sale on August 11 and they will hold a live concert and hand-shaking event at Japan's Studio Coast three days later.
The five-member girl band made their debut in 2007, releasing several singles and albums containing their hits "Pretty Girl," "Wanna" and Lupin."
Reporter : Lucia Hong luciahong@
Editor : Jessica Kim jesskim@
Source: Asiae
(Please do not remove any credits when taking out news from theksource.)