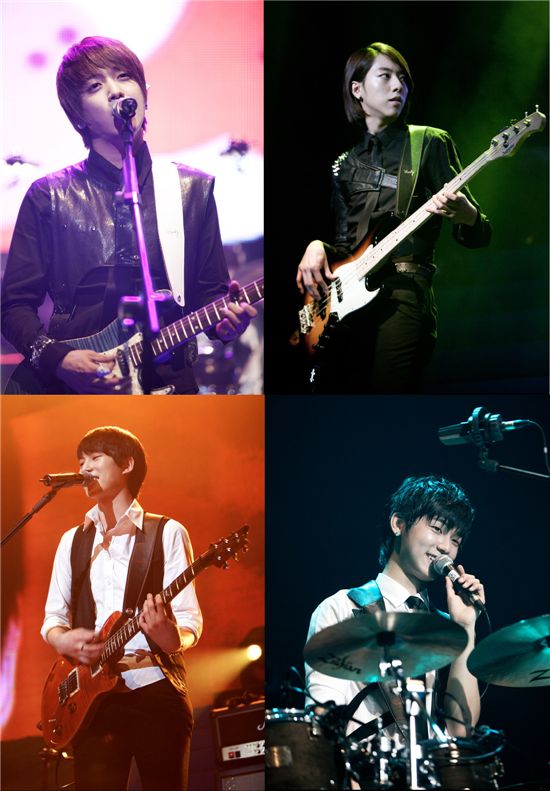 CNBLUE leader Jung Yong-hwa (top left), bassist Jung-shin (top right), guitarist Jong-hyung (bottom left) and drummer Min-hyuk (bottom right) at their concert on July 31 held at the AX Hall. [FNC Music]
Four-member Korean band CNBLUE rocked out for fans from near and afar at their first-ever concert yesterday, according to their agency FNC Music on Monday.
A press release from FNC announced that the rock band took stage at the AX Hall for their concert titled "Listen to the Blue" on July 31 in front of some 3,000 fans from Korea, Japan, Thailand, Hong Kong, China and Taiwan.
The boys kicked off the two-hour long concert with the song "Let's Go Crazy" from their second mini-album, followed by "Love Revolution," "Voice," "Tattoo," and "Just Please," while they sang tunes "Love," "Sweet Holiday" and "Love Light" during the second half of the show.
Leader and main vocalist Jung Yong-hwa gave an encore performance, singing the song "A Song For a Fool" from the hit SBS series "Minamishineyo," which was originally sung by Park Shin-hye in the drama.
CNBLUE, composed of other members Min-hyuk, Jung-shin and Jong-hyun, released two singles in Japan before breaking into the local music scene with their first mini-album "Bluetory." They returned to the music stage on May 19 with their second mini-album "Blue Love."
The group is scheduled to hold concerts in other Asian countries including Hong Kong, Singapore, Thailand, Taiwan, Japan and China starting this month.
Reporter : Lucia Hong luciahong@
Editor : Jessica Kim jesskim@
Source: Asiae
(Please do not remove any credits when taking out news from theksource.)