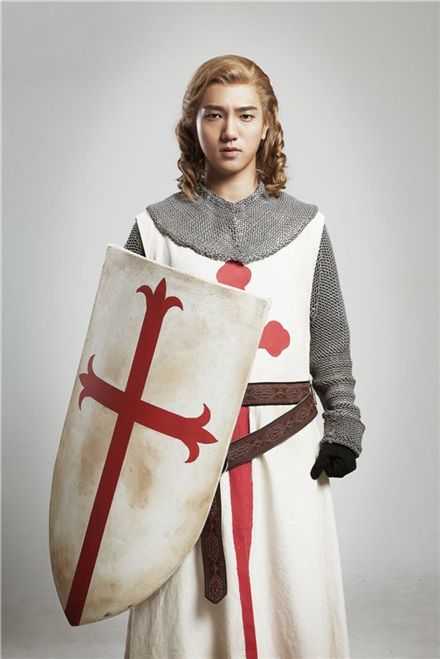 Super Junior member Yesung to star in musical "Spamalot" [Od Musical]
Super Junior member Yesung is set to play one of the male leads in an upcoming musical, according to musical producer's Od Musical on Thursday.
Od announced in a press release that Yesung will take on the role of Sir Robin, a collector of plague victims, for the musical comedy "Spamalot." The role, which was played by the season two runner-up of American Idol Clay Aiken in the United States, will be rotated by Korean musical actor Park In-bae.
"I will show what it means to be a true musical actor through this production, since I now have the know-how from being in two other musicals," Yesung was quoted as saying.
"Spamalot," based on the 1975 film "Monty Python and the Holy Grail," is a parody of the Arthurian Legend and written by Eric Idle, a member of the Monty Python team, and John Du Prez.
The original Broadway production began its run in March 2005 and was directed by Mike Nichols. It won three Tony Awards, one for best musical, and 15 Tony nominations during its initial run.
Yesung, whose real name is Kim Jong-woon, was discovered and trained by one of the biggest talent agencies in Korea, SM Entertainment.
He is one of the lead vocalists in the Korean pop idol group Super Junior. The boy band rose to stardom releasing numerous albums and hit songs such as "Show Me Your Love," "Don't Don," "Sorry Sorry" and "BONAMANA."
Yesung has starred in two other musicals including "Namhansansung" and "Hong Gil-dong" with bandmate Sungmin. He is busy preparing for the "SMTOWN LIVE '10 World Tour" which kicks off in Seoul on August 21 with other SM artists.
Reporter : Lucia Hong luciahong@
Editor : Jessica Kim jesskim@
Source: Asiae
(Please do not remove any credits when taking out news from theksource.)