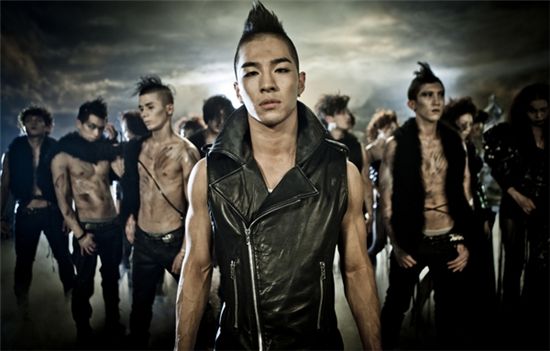 Korean pop idol Taeyang in a music video for upcoming single "I'll Be There" [YG Entertainment]
Korean pop idol Taeyang launched his official Twitter page (http://twitter.com/Realtaeyang) today, where he revealed several pics from the music video to his new single "I'll Be There."
Agency YG announced in a press release on Monday that the singer posted photographs from the upcoming music video along with the comment "PHOTO FROM MY NEW MUSIC VIDEO SET" on his new Twitter page.
In the photos, Taeyang and his backup dancers are seen wearing heavy smoky make-up, looking like they have been hurt emotionally.
Fans who have seen the photos have left various responses on the site, such as "Wow, it looks so cool! I can't wait to see this!", "OMG Can't wait to see this !!!", "so cool!! Can't wait to see the clip!!!" and "welcome to twitter oppa!! Finally!"
The choreography for the track "I'll Be There," known to be a hip-hop and R&B tune, was done by noted choreographer Shaun Evaristo.
Born Dong Young-bae, Taeyang was the first Big Bang member to debut as a solo artist, releasing his first mini-album "HOT" in May 2008. The album produced two hit singles "Prayer" and "Look Only at Me".
He also released two digital singles "Wedding Dress" and "Where U At" last November.
His first full-length record "Solar" topped numerous online and offline music charts after it was released on July 1. The album even placed high atop Apple's iTunes music charts overseas, coming at No.1 on Top R&B/Soul Albums chart of Canada iTunes and No. 3 on the U.S. site.
He will be releasing an international version of "Solar" on August 19 for his fans in both Korea and overseas. Music video for "I'll Be There" will be revealed on the same day.
Reporter : Lynn Kim lynn2878@
Editor : Jessica Kim jesskim@
Source: Asiae
(Please do not remove any credits when taking out news from theksource.)