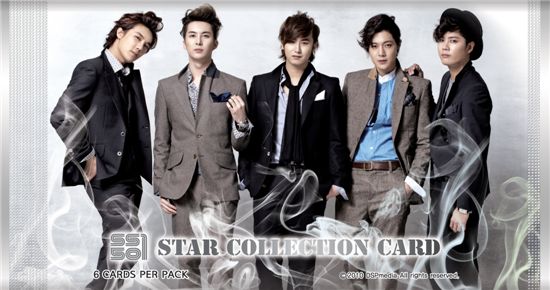 Korean boy band SS501 [SBS Contents Hub]
A collection of cards featuring photographs of Korean boy band SS501 have gone on sale in Korea, according to a press release from the card's creator SBS Contents Hub on Thursday.
SBS announced that the cards titled "Star Collection Card," which went on sale on online shopping mall GMarket last weekend, will also hit stores on October 12.
Totalling 100 images, each card features never-before-seen pictures of the members of SS501, sold in a packet or a set. Each packet holds six individual cards.
"We had previously created these cards featuring the members of TVXQ and Girls' Generation which were quite popular. This time we produced the cards especially for the fans of SS501," an official from SBS Contents Hub was quoted as saying, adding that they have plans to make cards of other K-pop idols as well.
The cards are currently available on online shopping site Gmarket (http://www.gmarket.co.kr).
SS501, who made their debut with single "Warning" in 2005, has released numerous albums as a group as well as pursuing individual careers in acting and appearing in variety shows.
The members of the five-member band recently signed with different agencies since their contract with DSP Media expired in June this year. Kim Hyun-joong joined KEYEAST, Park Jung-min signed with CNR Media and Kim Hyung-joon with S-Plus Entertainment.
Other members Heo Young-saeng and Kim Kyu-jong have yet to make a decision.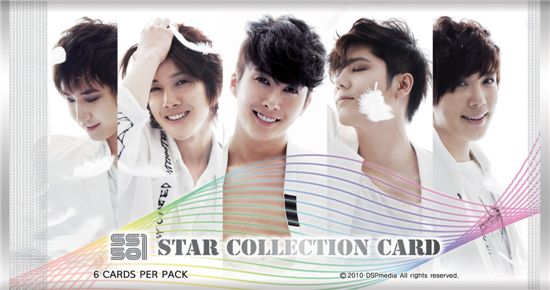 Korean boy band SS501 [SBS Contents Hub]
Reporter : Lucia Hong luciahong@
Editor : Jessica Kim jesskim@
Source: Asiae
(Please do not remove any credits when taking out news from theksource.)