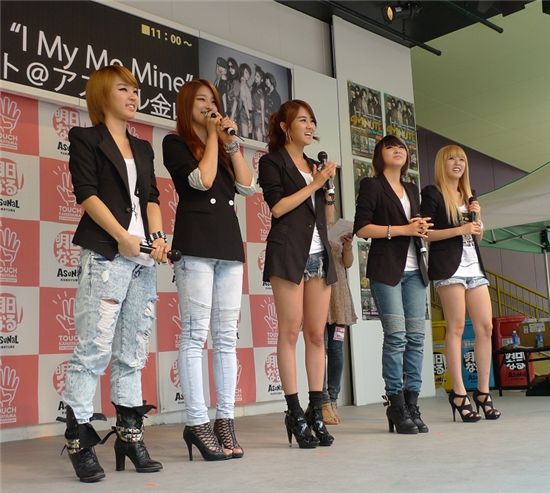 Korean girl band 4minute onstage during their promotion tour in Japan on July 31 and August 1, 2010. [Cube Entertainment]
Korean girl band 4minute heated up Japan over the weekend with a three-city promotional tour for their new record release, according to their agency Cube Entertainment on Monday.
Cube announced in a press release on Monday that the five-member group visited Tokyo, Nagoya and Osaka to promote "I My Me Mine," their second album in Japan released last Wednesday, during the weekend of July 31 to August 1.
4minute, who had already garnered much publicity during their promotion in Japan in March and May, brought out over 10,000 fans this time as they performed live at outside venues.
The group's success in Japan, the agency explained, may be attributed to the fact that their fan base is mainly composed of female fans in teens and twenties. Most who showed up at the promo events last weekend were also young female fans.
"The locals recognizing 4minute are not those who are just around downtown but also at train stations and restaurants," an official at Cube was quoted as saying. "We are targeting not just the Hallyu fans but the entire Japanese public, and carrying out the schedules accordingly."
4minute -- composed of members Jihyun, Gayoon, Jiyoon, HyunA and Sohyun -- made their debut in 2009 with their single "Hot Issue." They have enjoyed success with their mini-album "For Muzik" which topped various music charts in Asia including Taiwan and the Philippines.
The quintet returned to the music scene last month with their new single "I My Me Mine" from their second album "Hit Your Heart," also known as "HUH."
The girls will be appearing on Fuji Tv's "Mezamashi Live" in Odaiba, where they will perform six songs live, and on NHK Music Japan" at NHK Hall.
Reporter : Lynn Kim lynn2878@
Editor : Jessica Kim jesskim@
Source: Asiae
(Please do not remove any credits when taking out news from theksource.)