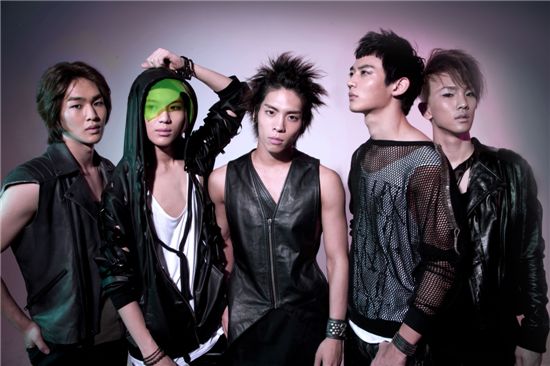 Korean boy band SHINee [SM Entertainment]
Korean idols SHINee cruised to the top spot on KBS' televised music show "Music Bank" over the weekend, scoring their first win on the program with their new single "LUCIFER."
On the Friday show, the boy band, who returned to the local music scene the previous week, beat out former week's winning single "Bad Girl, Good Girl" by girl group miss A.
"We would like to thank everyone at the agency who always works hard and supports us. And we would like to dedicate our win to the fans," the group said in their acceptance speech.
Five-member band SHINee, who was discovered and trained by SM Entertainment in 2008, have been promoting their second full-length album "LUCIFER" since its release in Korea on July 19.
Meanwhile, on SBS' music program, miss A grabbed their first Mutizen award with their hit song "Bad Girl, Good Girl" against Taeyang's "I Need a Girl."
miss A stormed into the K-pop music industry with their single album "Bad But Good" on July 1, have collected several wins on other music programs as well as topping numerous online and offline music charts with "Bad Girl, Good Girl."
Reporter : Lucia Hong luciahong@
Editor : Jessica Kim jesskim@
Source: Asiae
(Please do not remove any credits when taking out news from theksource.)