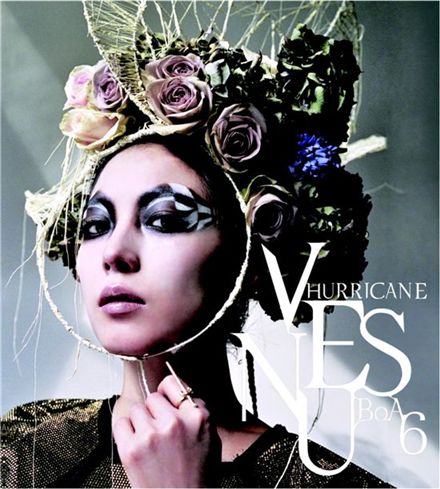 Korean pop singer BoA on the cover of her new album "Hurricane Venus" [SM Entertainment]
Korean pop star BoA continues to stir up hype with her upcoming album release this week, her first record in Korea in five years.
According to a press release by agency SM Entertainment on Monday, the singer's sixth album titled "Hurricane Venus," will be released both online and offline on August 5.
The new record carries eleven songs including "The Person Next To Me" written by Korean pop singer Kim Dong-ryul, "One Star" penned by rock band Nell's Kim Jong-wan, pop jazz ballad "Romance" arranged by famed jazz pianist Song Young-joo and "Don't Know What To Say," a collaboration with BoA's classical pianist brother Kwon Soon-hwon.
Title track "Hurricane Venus," unveiled today on online music sites, features lyrics about a woman who experience intense love like a hurricane.
BoA, one of the most active K-pop stars on the international scene, debuted in August 2000 with the album "ID; Peace B". She has released eight studio albums in Korea, six in Japan and made her U.S. debut in March 2009. Her last album in Korea was "Girls on Top," released in 2005.
She will be going on a world tour titled "SMTOWN LIVE '10 WORLD TOUR" with the rest of her SM labelmates including Kangta, U-know Yunho, Max Changmin, Super Junior, Girl's Generation, SHINee, f(x) and TRAX starting in Seoul on August 21.
BoA will be kicking off her local comeback with a performance on KBS' televised music show "Music Bank" on Friday.
Reporter : Lynn Kim lynn2878@
Editor : Jessica Kim jesskim@
Source: Asiae
(Please do not remove any credits when taking out news from theksource.)