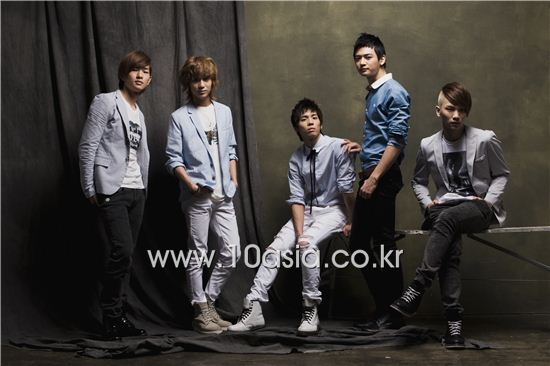 From left, SHINee members Onew, Taemin, Jonghyun, Taemin and Key. [Chae Ki-won/10Asia]
10: I think your lifestyle shows the most on your performance for "Lucifer." You have to do harmonies, belt out at parts, and all dance in time with each other. (laugh) How were you able to practice? You were all individually busy.
Taemin: This is what I felt. That people can just do when they go for it. (laugh) When they're faced with whatever, you just have to go for it even when you don't know [what you're supposed to do]. But we had actually thought also that we wouldn't be able to pull off the song.
Onew: But you can if you just go for it.
Minho: I was shocked the first time we rehearsed live after practicing the choreography. [I thought] This is impossible. We can't do it. Or let's put in a lot of MR. (laugh)
Key: We wondered whether we could just say we were sick. (laugh)
Minho: The funny thing is, we had gotten better the second day. We became okay to listen to and on the third day we were practicing, we thought, "Oh, we've gotten better?" So that's when we realized ah, we can do it if we practice.
Taemin: I was in Hong Kong a week before our comeback because I had to appear on "Let's Go Dream Team" in place of Minho since he got injured. Everybody was against it, including myself, up till the point I left. But everyone did just fine when I got back. I wondered what was going on, really. (laugh)
Jonghyun: When we're prepping for an album, we go into the agency around one or two in the afternoon and get back home after midnight. We practice together the whole time during that time. Shooting the music video means we're done with practicing the choreography so we sort of start practicing singing live after that.
Minho: I think a month before we shoot the music video, we practically live at the agency.
10: The mood of your team seems to have changed as well. I saw on a variety show that you're much more outgoing than you used to be.
Taemin: We're definitely night owls. We become a bit more alive at night. (laugh)
Minho: What we felt this time around was that hadn't adjusted to appearing on television before. It partially had to do with us being nervous but mainly that we didn't know what to do. But after monitoring ourselves for the past two years and watching what other people do, I think going on TV has become much more comfortable. We're mostly always laughing backstage or in the car, which we showed quite comfortably on that show, and we're just thankful that people seemed to have watching it.
Jonghyun: We should do reality shows. (laugh) I think it has a lot to do with us having become used to being around each other.
10: From that show it seemed that you all monitor how each other do?
Minho: Not really. We'll watch if someone says something was fun or see something by chance on the Internet. We can't monitor everything that everyone does.
10: Minho, how do you feel when you meet your seniors on KBS' "Let's Go Dream Team"?
Minho: I'm always the youngest. Even when other idol singers appear on the show, they would always be older than me, so I had a hard time in the beginning. There was also a lot that I didn't know about. But there are things that I've become used to over time and I'm increasingly enjoying the show more because people know that I'm a regular on the show now and will tell me when I've done well. You get to know a lot of people when you're a regular on a show and you experience a lot from it so I'm happy.
10: A video of you winking on KBS' "Music Bank" surfaced which was received very badly by your members. Maybe you should have monitored that. (laugh)
Jonghyun: It really was quite annoying. (laugh)
Minho: The members of my group actually hadn't known I would do it but right before we went on stage, the show's writer came to me and asked me to wink. So I said I couldn't but the writer said the producer had asked for it and pleaded that I do it. I couldn't not do it when I had been asked to that extent but I thought my members would tell say, "What? Don't do it, don't do it!" if I told them. (laugh) So I ended up doing it so I told them I was asked to but they wouldn't believe me and just walked off. (laugh)
Key: You did it many times even when you weren't asked to. (laugh)
10: I guess your members don't trust you. (laugh)
Jonghyun: Minho is good-looking so he keeps getting asked to do such things. So we act like this to him more because it would be no fun and the atmosphere could seem more awkward if he acknowledge it. We're all just playing around. But that was a mistake. (laugh)
Minho: The criticism. (laugh)
Onew: It's envy rather than criticism. Because he's so good-looking.
Minho: They're going to attack me after this.
Jonghyun: You should be thankful. There are so many people who only do the attacking! (laugh)
10: I think your group is forming a style unique of yourselves while living together and pursuing your careers together. What do you think is SHINee's style right now?
Jonghyun: We say this everytime but I think we're contemporary singers. We each have our individual characteristics but I think that's what should be expressed the most when we're within SHINee as a team.
10: You're contemporary singers but aren't you expanding on that increasingly? I felt that this album was not about SHINee performing or SHINee singing a ballad but rather if songwriters toss you songs (laugh), you put in harmonies to the songs in the style of SHINee and dance to it.
Jonghyun: That's what we were striving for from the very beginning.
Onew. We do all of that now. There's nothing we don't do. (laugh) We were able to experience the entire process of making an album this time, from start to finish, which I thought was very important. On one show, we sang several songs from our album and we each sang the songs we could, which is when I realized we can all do more and more.
10: You're talking about music program "Muzit" right? The show where you sang not to the MR but to a band.
Jonghyun: Yes. That was fun. We kept rehearsing with the band starting the previous day.
Onew: We'd exchange opinions and they gave us suggestions. We went through the same process as when we made our album. I think the show implied who we are today.
Senior Reporter : Kang Myoung-Seok two@
Photographer : Chae ki-won ten@
Editor : Jessica Kim jesskim@, Lee Ji-Hye seven@
Source: Asiae
(Please do not remove any credits when taking out news from theksource.)