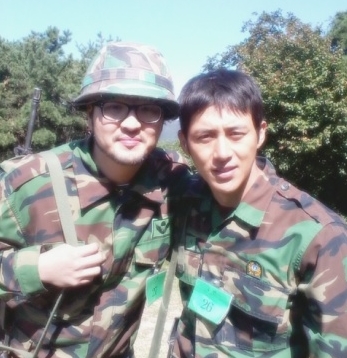 Korean singer Kim Tae-woo (left) and actor Ko Soo (right) [Official Kim Tae-woo cyworld]
Korean balladeer Kim Tae-woo has posted a photograph of himself and actor Ko Soo on his official Cyworld webpage.
Last week, the 29-year-old singer had uploaded a picture of himself with his arm around Ko Soo taken during their reserve forces training titled "Cool Ko Soo!!"
He wrote a comment below the latest photo saying, "It has been a while since I met Ko Soo!! I can't believe that the place we see each other is the military training camp...It's great to see him here though since we've both been busy."
Kim added that he will be watching Ko's movie and that other fans should look forward to the film which will open in theaters in November.
Fans who have seen the photo have left responses saying, "Ko Soo in his military uniform looks like a model" and "The both of you look so handsome."
Kim made his debut in 1999 in the now-disbanded boy band group GOD and has pursued a solo career since. He saw a successful year in 2009 with his single "Love Rain."
Ko appeared in the music video "Letter" by singer Position in 1998 and has since starred in numerous dramas and films. His move notable appearances are in drama "Piano" and "Will it Snow for Christmas?" and movies "Some" and "White Night."
He will be starring in the upcoming action thriller tentatively titled "Psychic" with actor Gang Dong-won.
Reporter : Lucia Hong luciahong@
Editor : Jessica Kim jesskim@
Source: Asiae
(Please do not remove any credits when taking out news from theksource.)