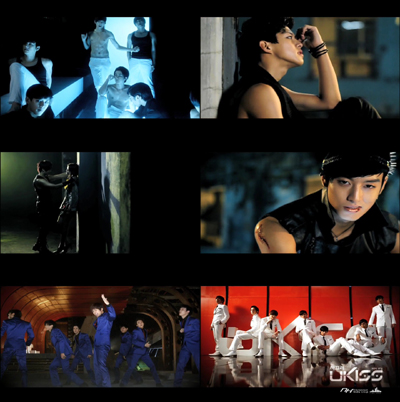 Still shots of Korean boy band U-Kiss' video "Shut Up" [NH Media]
Korean idol group U-Kiss have revealed the full-length music video for their title track.
The official music video of the title track "Shut Up" from their fourth mini-album "BREAK TIME," which was released on October 5, was released on the group's official YouTube channel yesterday.
The full version of "Shut Up" also revealed the boys' upcoming concept for their new album, showing a more masculine image of the members.
U-Kiss (Ubiquitous Korean International Super Star), composed of members Alexander, Ki-bum, Soohyun, Ki-seop, Eli, Kevin and Dongho, made their debut with their single album "New Generation" in September 2008.
The group will be promoting their title track as well as their new mini-album on various televised music shows.
Reporter : Lucia Hong luciahong@
Editor : Jessica Kim jesskim@
Source: Asiae
(Please do not remove any credits when taking out news from theksource.)